Chery Tiggo 7 Pro awarded Qatar's Best-Selling SUV of The Year
Image
In late December, the Chery Tiggo 7 Pro was named Qatar's best-selling SUV of the year at the Qatar 2021 QATAR CAR OF THE YEAR awards ceremony.
The 2021 QATAR CAR OF THE YEAR (QCOTY21) is an annual automotive competition organized by Maqina professional automotive platform in conjunction with various automotive media outlets. 
Maqina is an authority in Qatar specializing in automotive reviews and communications with a reach across the Middle East region. Other brands that won awards include the best SUV - Land Rover Defender and the best performance SUV
- Jaguar F-Pace SVR.
Since its launch in Qatar in April, the Chery Tiggo7 Pro had been favoured by the majority of users with its stylish appearance and technological configuration and saw the sustainable growth of monthly sales. 
In October, it achieved first place in the segment market sales. In addition to the excellent product power, Chery also strived to provide an open, free and sincere communication platform for every car owner in Qatar, so that users and the brand can be truly close. 
In Qatar, Chery has established the owners' club for each main selling model such as Tiggo 7 Pro and Tiggo 8 Pro and created wonderful owners' activities with the theme of WITH CHERY WITH LOVE. In this regard, more Chery owners in Qatar can personally experience the nature of the brand. 
The attention to customer care and strong model competitiveness helped Chery's sales grow at a high rate and a 3.5% increase in market share, ranking ninth among car brands in Qatar.
WCWL offline activities for car owners
As one of the Chery Pro-Family series models, Tiggo 7 Pro is characterized by personalized fashion design, humanized rich technology configuration, and a comprehensive safe and comfortable driving experience. 
In addition, it adopts the new Pro-Family series design language, the diamond front grille with matrix LED intelligent headlights, highlights atmosphere and fashion in appearance. 
Tiggo 7 Pro is equipped with advanced technology configuration beyond its class, such as a 10.25-inch entertainment screen, 360 HD panoramic video, mobile phone wireless charging, inductive power tailgate and other features, saving and caring.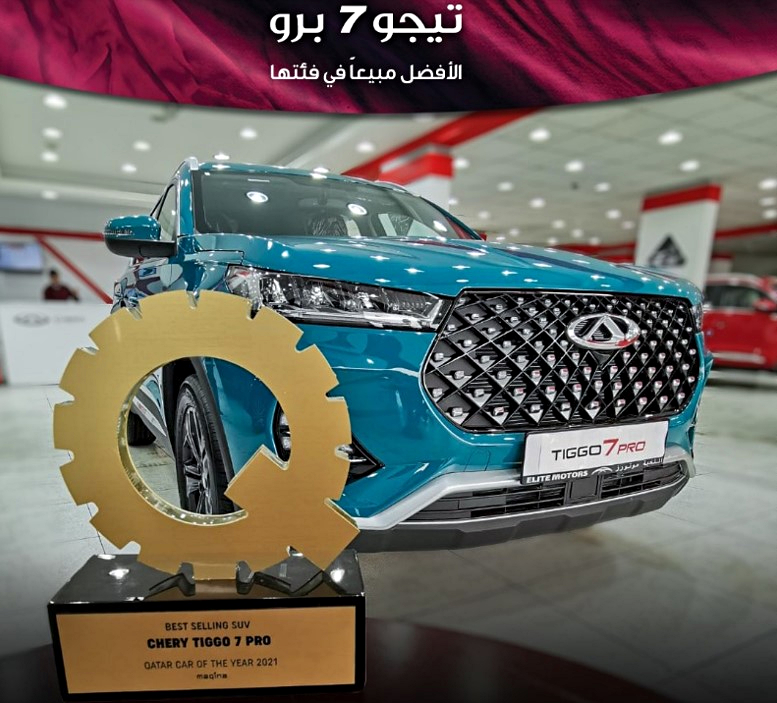 In terms of safety, the Tiggo 7 Pro has a class-leading technology configuration. In terms of safety, the Tiggo 7 Pro has class-leading air quality, a high-strength body, 6 airbags and Bosch ESP9.3 as standard equipment, which ensures the safety and comfort of the driver.
In the future, Chery will continue to launch other Pro series models in Qatar and the Middle East to present more consumers with a quality driving experience.